It was a dirty old city, and like every other city, many homeless men lived on the streets and slept in the parks at night. One such man was known as Old Jim. He was a shabby old fellow who, out of desperation, began to seek after God. So, every day at twelve o'clock he would enter the local church, stay a few minutes and leave.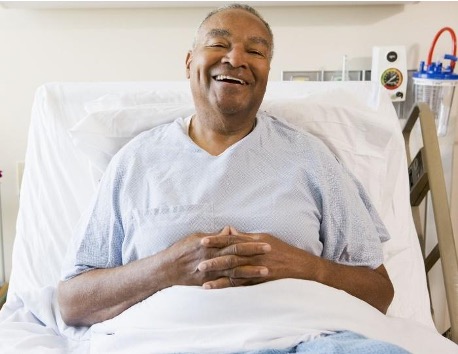 The caretaker became concerned for the valuable altar furnishings, as every day just at twelve the shabby figure would arrive. The caretaker would watch diligently to be sure nothing was taken. Then one day he confronted Old Jim saying, "Look here my friend, what are you up to, coming into the church every day?"
"I comes to pray," replied the old man politely.
"Now, come!" the cautious caretaker said, "You don't stay long enough to pray."
"True enough. I cannot pray a long prayer, but every day I just comes and says, 'Jesus, it's Jim'. Then I waits a minute, then I goes out. I guess He hears me though it's but a little prayer."
Much to the caretaker's disgust, Jim kept coming each day. He would make his way to the front of the church and say under his breath, "Jesus, it's Jim." He would wait a while and shuffle out again.
A few weeks later, Old Jim was knocked down by a car whilst crossing the street and was taken to the nearby hospital to mend.
The ward where Jim quite happily lay was a sore spot to the nurses on duty. They didn't like going in there as many of the men were miserable, and did nothing but complain from morning till night. But slowly the men stopped their grumbling, becoming happy and contented.
As the nurse was walking through the ward she heard the men laughing. "What has happened to all of you? You are such a cheerful lot of patients lately."
"It's Old Jim," they replied. "He's always happy, and never complains, though we know he is uncomfortable and in pain."
The nurse walked over to Jim's bed where the silvery haired old gentleman lay with an angelic look on his face. "Well Jim, these men say you are the cause of all this change in the ward. They say you are always happy."
"Aye, that I am nurse. I can't help it. You see nurse, it's my visitor. He makes me happy."
"Visitor?" The nurse was puzzled for she had never noticed any visitor by Jim's bed. The chair was always empty at visiting hours. "When does your visitor come?" she asked.
"Every day," replied Old Jim, with the light in his eyes growing brighter. "Yup, every day at twelve o'clock he comes and he stands at the foot of my bed. I sees him there; he smiles and says, 'Jim, it's Jesus.'"
It is not the length of our prayers or our outward piety: it's walking hand-in-hand with our Father filled with a childlike trust that knows He will never leave us, nor forsake us (Hebrews 13:5). Walking with God is easy; He's only a breath away.
Excerpt from When Angry Hearts Forgive by Robert Warren – Used with permission [Paraphrased from Mrs C.E. Cowman, Streams in the Desert – Vol.2, Marshall Morgan & Scott, London UK (1979)]